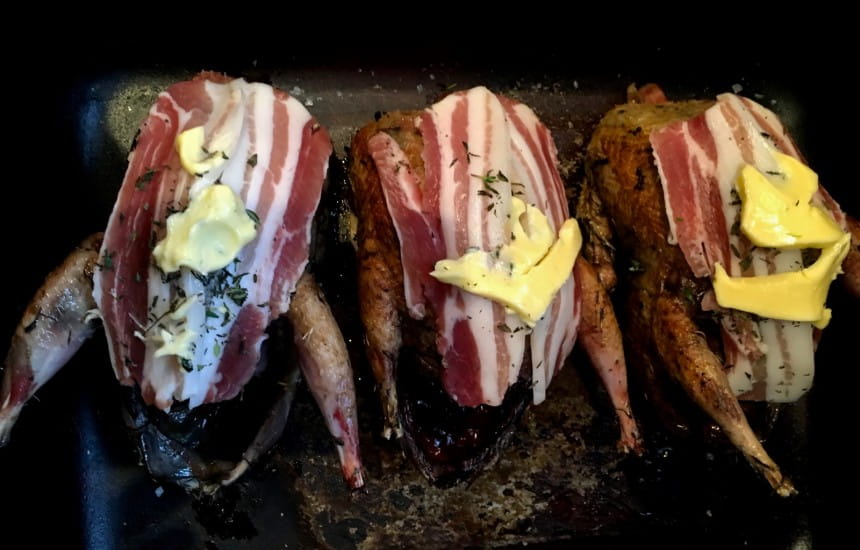 Recipes
How to cook grouse
You might be daunted at the idea of cooking grouse but it's a great treat for a small dinner party.
If you haven't cooked it before try this reassuringly simple recipe from chef Stephen Markwick with whom I collaborated on his book A Well-Run Kitchen
Roast grouse 'traditional style'
Once the first grouse arrive this means my favourite time of year from a cooking point of view is just around the corner. I find it hard to decide whether grouse or mallard (for which there is a recipe in
A Very Honest Cook) is my favourite bird but there is undoubtedly something very special about grouse. We serve it 'traditional style' - on a croute spread with its own cooked liver, bread sauce, crab apple or redcurrant jelly, game chips and a little gravy and it is absolutely delicious.
For the restaurant we buy the grouse 'long legged' which means they are plucked but not drawn. This determines the gaminess of the bird as the flavour develops if the guts are left in. You might not want to do this and it is easy to buy the birds oven-ready but do have the liver too!
Serves 4:
Ingredients
4 grouse (1 per person) including their livers
4 sprigs thyme
75g (3oz) butter
6 rashers of streaky bacon (1.5 each)
50ml (2 fl oz) dry sherry
300ml (1/2 pint) well-flavoured meat or game stock
Salt and pepper
For the bread sauce:
425ml (3/4 pint) milk
half an onion, roughly chopped
4 cloves
1 bayleaf
110g (4oz) fresh breadcrumbs
50g (2oz) butter
1 tbsp double cream
salt, pepper and nutmeg
For the game chips:
3-4 good size Maris Piper potatoes
salt
To serve
1 bunch of watercress for garnish
4 slices of white bread for the croutes (remove the crusts and cut the bread into a square or circle)
Crab apple jelly or redcurrant jelly
Method
Like most roasts that come with their own special accompaniments the order you cook things is key. The grouse itself doesn't take long so you can get ahead by making the bread sauce and game chips in advance (see below) and part-cooking any vegetables. (We like to serve it with red cabbage).
To cook the grouse preheat the oven to 200°C/400°F/Gas 6. Put a roasting tin in the oven to heat, ready to take the grouse. Season the birds well inside and out with salt and pepper and place a sprig of thyme and a knob of butter in the cavity of each bird.
I like to start cooking the grouse in a frying pan on top of the stove: heat the pan, add a tablespoon of oil and a good slice of butter. Brown well on all sides before turning the birds breast side upwards and covering them with the streaky bacon.
Smear some more butter over the bacon, place in the hot roasting tin and put the tin in the pre-heated oven. Cook for approximately 12-15 minutes basting with the butter at least twice during that time. (If you don't want to brown the bird first you can just put it straight in the oven but allow another 10 minutes cooking time.)
Grouse should be served rare. You can tell whether they are cooked by presssing the breasts with your finger. They should be springy. If they're too soft, cook for a couple of minutes more.
It is very important to rest the birds in a warm place for 10 minutes before serving as it lets the meat relax and the juices set.
While the grouse are resting deglaze the roasting tin with the sherry and good quality stock and reduce to a rich gravy.
Fry the croutes in the butter you used to roast the birds. The livers can be fried in this too. (In the restaurant I tend to do this in advance, having chopped the liver first, then I mix it with a little chicken liver pat because the flavour of grouse liver can be quite strong.)
To serve: Put the grouse back in the oven for a minute to warm up. Spread your croutes with the liver paste and put one on each plate. Sit the grouse on top. Garnish with lots of watercress and serve the other accompaniments in separate dishes.
Bread sauce
Heat the milk gently with the chopped onion, cloves, bay leaf, salt and pepper. Once it is at simmering point (but not boiling) take off the heat, cover with cling film and leave to stand for half to three quarters of an hour to infuse the flavours. Strain the milk into another pan, place it over a low heat and whisk in the breadcrumbs. Add the butter, check the seasoning and add a little grated nutmeg and a dash of cream.
Game chips
You might just prefer to buy good quality crisps but in the restaurant I make my own! You need a good chipping potato like Maris Piper. Peel them, slice thinly on a mandolin and rinse well in cold water. Dry with a tea towel before cooking in batches in hot oil (160°C-170°C). Move the crisps around constantly while you fry them. They should take 3-4 minutes. Once they're golden lift them out with a slotted spoon, drain them on kitchen paper and sprinkle lightly with salt.
What to drink: Red burgundy is the traditional match for grouse but there are of course other options. See my latest thoughts here
If you found this post helpful and would like to support the website which is free to use please subscribe to my crowdfunder newsletter Eat This Drink That at fionabeckett.substack.com
You may also enjoy …
Recent posts …
Never miss a post!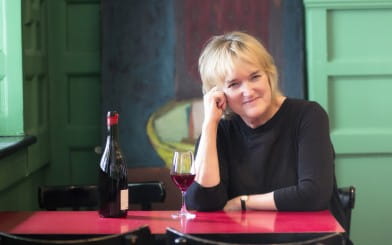 About Fiona
Events and appearances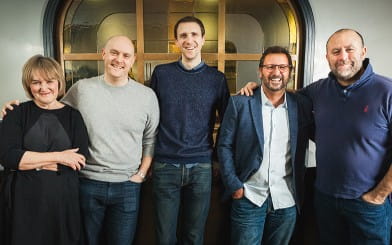 Work with me