Recipes
Salted Salmon with Tarragon Butter
This recipe comes from a fascinating book by award-winning food writer Sybil Kapoor called Sight Smell Touch Taste Sound which reveals the role our senses can play in the way we cook and eat.
This simple delicious recipe from a chapter on taste shows how salt can highlight taste and texture of fish like salmon.
Sybil writes: "Fish and meat in European cooking are traditionally salted to help preserve them – for example, smoked salmon or duck confit. In countries such as China and Japan, salting is also used to change the texture of food and, equally importantly, to remove fishy or meaty odours, partly by extracting blood and bitter juices.
Dry salting, such as here, is used for oily fish such as mackerel, herring and salmon. The longer any ingredient is salted, the more liquid is extracted and the saltier the ingredient will taste. The art is to allow just enough salt to develop the umami tastes, but not so much that all the tastes are submerged beneath the salt. The tarragon butter adds a tempting rich texture and depth of flavour."
Serves 6
6 x 175 g/6 oz salmon fillets with skin
3 tsp fine sea salt
2–3 tbsp extra-virgin olive oil
For the tarragon butter
1 tbsp finely chopped tarragon leaves
1 lemon, finely grated, plus 1 tsp juice
55 g/2 oz/scant 4 tbsp
unsalted butter, softened
salt and freshly ground black pepper
Place a plate or tray large enough to hold the fish on the work surface. Evenly sprinkle the surface of the plate/tray with half the salt. Lay the fillets skin-side down on the plate/tray, then sprinkle the remaining salt over the fish. Chill for 40 minutes.
Make the tarragon butter by beating together the chopped tarragon, lemon zest and juice and butter in a small bowl. Very lightly season to taste, as the fish is already salty. Spoon the butter onto some greaseproof (wax) paper to roughly form a sausage shape – roll up the paper and gently roll it under your fingers until it forms a smooth cylinder.
Chill until needed.
Preheat 2 non-stick frying pans (skillets) over a medium-high heat. Once hot, add 1–1½ tbsp olive oil to each pan, then add 3 salmon fillets, flesh-side down, to each pan. Fry briskly for 3 minutes, or until seared and golden, then turn and cook for 3–4 minutes, or until the skin is crisp and the salmon is just cooked through. Plate the salmon, topping each fillet with a round slice of tarragon butter. Serve immediately.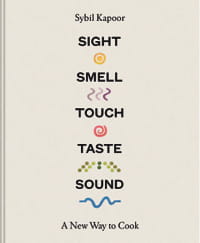 What to drink:
I particularly like chardonnay with tarragon (see What wine should you pair with herbs) so I'd probably go for a Chablis or other subtly oaked chardonnay but a crisp sauvignon blanc from the Loire such as a Sancerre or Pouilly Fumé would also work well.
For other salmon pairings see 10 great wine pairings with salmon
Recipe from Sight, Smell, Touch, Taste, Sound: A New way to cook by Sybil Kapoor, published by Pavilion Books. Image © Keiko Oikawa
If you found this post helpful and would like to support the website which is free to use please subscribe to my crowdfunder newsletter Eat This Drink That at fionabeckett.substack.com
You may also enjoy …
Recent posts …
Never miss a post!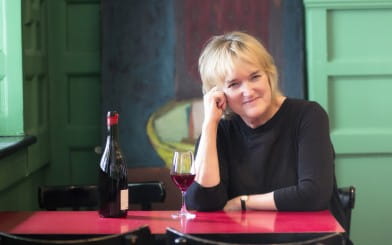 About Fiona
Events and appearances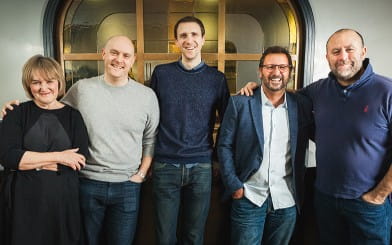 Work with me